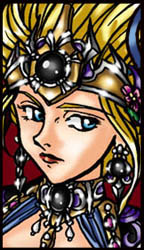 main

artwork
fantasy gallery
tarot gallery
anime fanart gallery
elfwood gallery

comics
elder star
hamlet: the manga

cosplay
introduction
completed costumes
completed armor
costumes in progress
renaissance costumes
articles and advice
con reports

the anime alcove
fanworks & features

commissions
blog
about/contact
links
awards
gifts
faq
ebay

sign guestbook
view guestbook

---
All artwork copyright
Amethyst Angel
(Teresa Dietzinger) c.2003.
Please do not nick, steal, or in any way use without permission.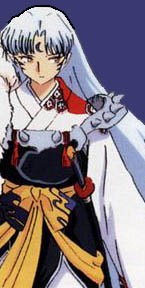 Sesshoumaru
Chest Armor
This is not a work of armor I talk about in my Armormaking Article so I'll take the time to explain a little bit about how it was made here. Ideally, I would've liked to have made it by taking an existing piece of kendo armor and altering it, but kendo armor is kind of on the expensive side and I had to make do with what I had: Foamies and plastic sheeting. The person I made it for specified they wanted to have it so that the shoulderpiece with the claws on it would be removable, so I designed a system whereby the shoulderpiece could be set into slots in the front and back of the armor. Making the claws proved to be the toughest part of the project, as they had to looked curved and organic, and my scultping talents weren't really up to the challenge. I eventually settled on a system where I molded the claws using modelling clay and hot glue from a template I had managed to make (after 1,485 unsuccessful tries) out of friendly plastic. All in all, I don't think it was a bad result, considering what I had to work with (which wasn't much). This costume was worn at Sakuracon, by the way. Click here to see it how it looks with it's finished costume.