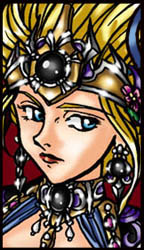 main

artwork
fantasy gallery
tarot gallery
anime fanart gallery
elfwood gallery

comics
elder star
hamlet: the manga

cosplay
introduction
completed costumes
completed armor
costumes in progress
renaissance costumes
articles and advice
con reports

the anime alcove
fanworks & features

commissions
blog
about/contact
links
awards
gifts
faq
ebay

sign guestbook
view guestbook

---
All artwork copyright
Amethyst Angel
(Teresa Dietzinger) c.2003.
Please do not nick, steal, or in any way use without permission.



Renaissance Style Dresses
Created for myself and my friends for our all-too-frequent trips to the local Renaissance Festival.
This is a dress I made of blue and silver brocade. I used the same fabric to make a matching muffin cap. (I never wore this one. Rather, I sold it when I was short on cash. But I've got plenty of that same type of fabric left over and I'm hoping to use it to make a similar dress at some point in the future.)



This is a woman's doublet I made. (And then sold after wearing it once. I wasn't too fond of it. I guess I like costumes that are more of the wenchy, "show the world what you got in front" variety.) The panes of the sleeves were sewn with over 40 pairs of aglets and were studded with dozens of drop-shaped pearls. (Needless to say, I almost got carpal tunnel from sewing this particular project.)


This red iridescent satin dress is made in the same style as the blue dress above, is trimmed with black lace and decorated with blood red beads. Said dress is being modeled by my friend Amber in the picture below. (I'm the girl to her left wearing the wenchwear.)


At some point in my life I picked up needlepoint lacemaking as a hobby. (Although I don't do much of it anymore on account of the unholy amount of time it takes.) These lace examples were made of linen thread and were based on patterns I found in a patternbook by Vincolo, first printed in the late 16th century.



Below are some examples of wedding and bridesmaid dresses I've made. The picture below is of my old college friend Tammy and her entire wedding party, all of whom had their dresses made by me. (I almost swore off velvet forever after THAT epic little project, lemme tell ya...) The dresses were based off of a pattern inspired by the dress Drew Barrymore wore in that "Ever After" movie. (16th Century Italian Renaissance)