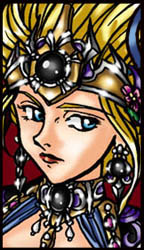 main

artwork
fantasy gallery
tarot gallery
anime fanart gallery
elfwood gallery

comics
elder star
hamlet: the manga

cosplay
introduction
completed costumes
completed armor
costumes in progress
renaissance costumes
articles and advice
con reports

the anime alcove
fanworks & features

commissions
blog
about/contact
links
awards
gifts
faq
ebay

sign guestbook
view guestbook

---
All artwork copyright
Amethyst Angel
(Teresa Dietzinger) c.2003.
Please do not nick, steal, or in any way use without permission.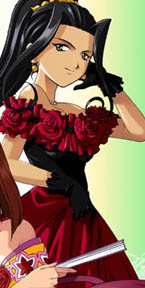 Soletta Orihime

Yet another costume commission. This one is for an obscure character who rarely gets cosplayed, (but who is pretty, nonetheless.) The most difficult thing about this dress (aside from getting the hem the right height and level) was sewing the approximately 5,127 yards of fabric which made up the ruffles. Oh, and the earrings, which were, well, odd.
My second crack at this costume (commissioned by someone who saw and liked my first version.) One of the major improvements I made in this design was sewing the petticoat to the skirt of the dress itself instead of making it a separate article of clothing. (So it isn't slipping down and becoming visible.) I love the colors of the material of this dress (even if it IS satin. Ugh!)