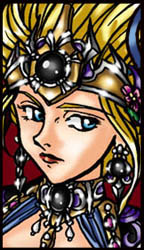 main

artwork
fantasy gallery
tarot gallery
anime fanart gallery
elfwood gallery

comics
elder star
hamlet: the manga

cosplay
introduction
completed costumes
completed armor
costumes in progress
renaissance costumes
articles and advice
con reports

the anime alcove
fanworks & features

commissions
blog
about/contact
links
awards
gifts
faq
ebay

sign guestbook
view guestbook

---
All artwork copyright
Amethyst Angel
(Teresa Dietzinger) c.2003.
Please do not nick, steal, or in any way use without permission.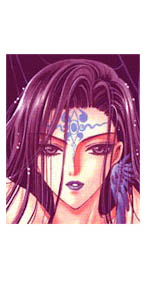 Kanoe
First Worn: Halloween 2002
This was one of two cosplay outfits I made to wear during the 2002 Halloween season. This was an extremely easy one to throw together, consisting almost entirely of thrift shop finds (although I had to make some heavy alterations on the skirt to give it that long, slender, slitted, slutty look.) I also had to wear a heavy, steel- boned corset (which I usually wear with my Renaissance garb) with this outfit to get my figure to do what I wanted it to. I'm disappointed that the first round of pictures I had taken with this costume didn't turn out, as I had been wearing my Jungle Red press-on fingernails at the time (but said fingernails just didn't want to stay on for more than five seconds. Alas.) I made the earrings myself using craft foam and foil and, to complete the ensemble, I added a cheapie Halloween witch wig, some face paint, and lots of red lipstick.





("I am a ho.")

Back