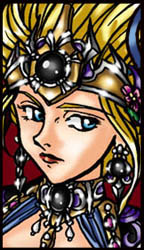 main

artwork
fantasy gallery
tarot gallery
anime fanart gallery
elfwood gallery

comics
elder star
hamlet: the manga

cosplay
introduction
completed costumes
completed armor
costumes in progress
renaissance costumes
articles and advice
con reports

the anime alcove
fanworks & features

commissions
blog
about/contact
links
awards
gifts
faq
ebay

sign guestbook
view guestbook

---
All artwork copyright
Amethyst Angel
(Teresa Dietzinger) c.2003.
Please do not nick, steal, or in any way use without permission.




Borus (Armor) from Suikoden 3

Whew. Where do I even start with this one? I (of course) created this armor using my foam and plastic sheeting method. The most difficult aspect of this project was, by far, getting all the pieces to fit together smoothly and in such a way that the person wearing this armor could still move their arms and legs. (Granted, whoever wears this probably won't be able to perform complex gymnastic routines or fight elaborate stage battles, but they should at least be able to walk and pose without too much difficulty.)

This costume's biggest headache: locating a place online where I could buy the buckles (I needed 16 of them, all identical to each other), and getting ahold of some leather for the straps. (Thrift shops belts work out great in this regard.) I also had trouble locating decent reference pics as, aside from one official character sketch and in-game screenshots, they are few in number. The finished armor ended up being an amalgamation of the in-game image and the character sketch, as they differed slightly from each other. (I just picked and chose what seemed the easiest to do from both sources.)

Estimated time I spent on this project: Around 50-60 hours. Definitely not one for the commitment-phobic...