Now came the time to paint the arm. I used chrome spray paint as an undercoat and Testor's enamel for the fine detail painting. I used long strokes to make the surface of the arm appear like polished metal. Once I was satisfied with the surface, it was time for the final touches...

First step, (after gluing in the wires in the manner I described earlier), was to make the thin metallic-looking strip which hangs exposed under the wearer's arm. The strip was easy enough to make. First I cut out a strip of craft foam, fitted it around the armhole and cut it to size...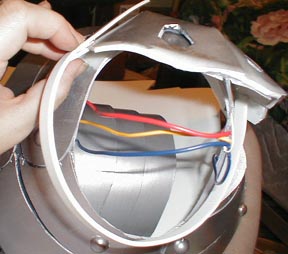 I then glued a strip of styrene over it, which I then covered with a strip of vinyl decal adhesive. I then hotglued the finished strip to the interior of the arm, like so...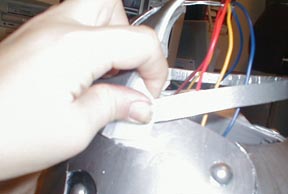 And this is what it looked like...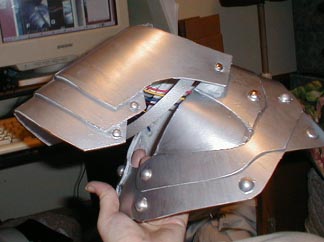 Last step was to create the black sleeve which would be worn under the armor, covering the wearer's arm. I cut a tube of thin, spandexy black fabric and finished the edges so they wouldn't unravel. (You can do this by serging or hemming them.) I then placed the wider end of the tube around the interior of the armhole and started hotgluing it around the edge.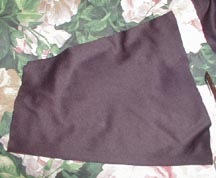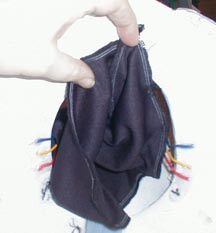 After hotgluing the tube to the armhole, I ran a few stitches through the foam, fabric and plastic layers for added security. The fabric tube itself was only long enough to extend to the forearm piece (as the person wearing this would be wearing a spandex black glove to cover up the junction between forearm and hand and the area under the fingerplates.) Anyway, this is what the finished sleeve should look like from the inside of the armor.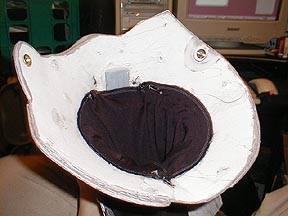 And this is what the armor should look like when finished... The two arm grills are interchangable, and if you look closely you can see how the clear vinyl strip fits across the chest. (As I said before, for added security, you can apply double-sided tape or medical adhesive to the interior of the body piece so that the armor will adhere to the skin. I'd recommend, however, shaving your chest before this technique is attempted.)


I know I've played fast and loose with the explanation, as I had a lot of ground to cover. The total cost for this project will depend on where and how you buy your supplies, (but you can expect to spend at least 50 dollars on raw materials. At least.) If you have any specific questions regarding any aspect of construction e-mail me at dietzt@cloudnet.com (making sure you've read this article and have familiarized yourself with my entire armoring tutorial before doing so. As I said before, this is an intermediate project, and if you have had some experience sewing and making armor, it will go a lot easier for you.)
---

All anime characters featured are copyright their respective owners.
All costumes created by and all pictures property of Amethyst Angel c. 2005 (c.2016)
Back to the Main Page
>