Edward Elric's Automail Arm



Next step in the process: create the hand armor. I wanted it to have a little flexibility, so for the underside of the hand, (er... the palm,) I decided to use foam covered with silver vinyl instead of plastic. The vinyl wasn't too difficult to find- I'd found some for sale in the Halloween fabric section at JoAnn's. (MJ Trends.com also has silver vinyl for sale in its online catalog, should you find yourself interested in buying some.)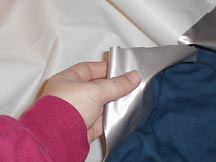 I cut the palm piece out of thin craft foam and laid it down on the vinyl. I applied Gem-Tac (a non-water-soluble fabric adhesive available at Michael's and other craft stores) to one side of the foam, turned the piece over, and laid it down onto the wrong side of the vinyl, making sure the surface of the vinyl was as smooth and free of bubbles as possible.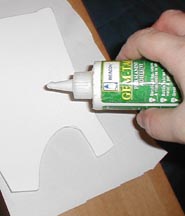 Once it was dry, I cut the foam piece out of the vinyl sheet, leaving 1/2" of free vinyl around the piece. I clipped the overhanging vinyl into tabs and hotglued them to the wrong side of the foam piece, as shown...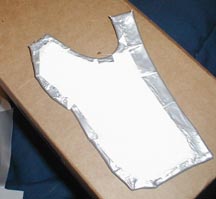 The next step was to create the T-shaped piece which went over the palm. This I cut out of styrene and covered with the peelable sign vinyl decal sheeting I used to cover the fingerplates.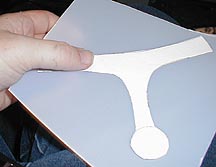 I glued the covered T-shaped piece to the palm piece. To create the giant screw, I cut a small circle out of foam, hotglued styrene over it, cut it in half, and hotglued it onto the palm piece. Then I painted the top surface and sides of the screw with silver enamel.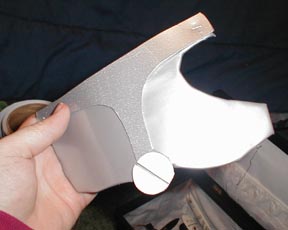 I cut the upper part of the handpiece out of foam and hotglued it to a piece of styrene sheeting.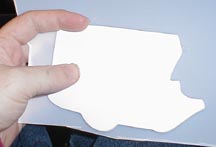 I then cut the piece free of the styrene and sewed it to the palm piece.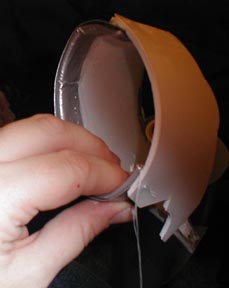 To create the illusion of depth with the fingers. I applied another layer of foam and styrene over the first one, made up of separate plates which, when glued onto the first piece, would create the notches and seams effect...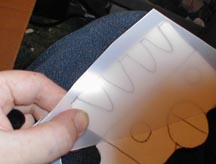 ...Like this...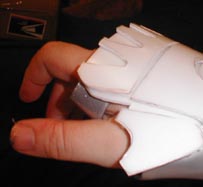 Next step: finishing the hand...


---
You can link to this site using the following banner:

And, of course, I could always use a little help in keeping this page running, seeing as how it's the primary sucker-upper of my monthly bandwidth...
Feel free to visit my Online Prop and Armor Portfolio to view more examples of my work.

All anime characters featured are copyright their respective owners.
All costumes created by and all pictures property of Amethyst Angel c. 2005
dietzt@cloudnet.com